Services
Our knowledgeable and caring professionals work to achieve the results most important to you, be they deep relaxation, revitalization, or relief from pain and stress.
Relaxation Massage
1/2 Hour
$45
1 Hour
$75
1 1/2 Hours
$120
Deep Tissue/Therapy Massage
1/2 Hour
$53
1 Hour
$85
1 1/2 Hours
$138
Reflexology
45 Minutes
$72
Reflexology + Massage Package
30 Minutes Reflexology + 1 Hour Relaxation Massage
$123
Hot Stone Massage
1 Hour
$100
1 1/2 Hours
$140
Couples Massage
1 Hour
$170
1 1/2 Hours
$276
Prenatal Massage
1 Hour
$85
1 1/2 Hours
$138
Manual Lymphatic Drainage
1 Hour
$85
On-site corporate packages available. Call for details!
MASSAGE TECHNIQUES
"Massage doesn't just feel good. Research shows it reduces heart rate, lowers blood pressure, increases blood circulation and lymph flow, relaxes muscles, improves range of motion, and releases endorphins, the body's natural painkillers."
©1999, American Massage Therapy Association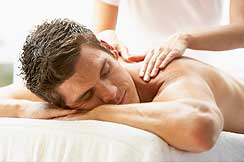 RELAXATION MASSAGE
The most common type of massage. Specific strokes and pressure target the more superficial layers of the muscles and are often combined with active and passive movements of the joints. This therapy promotes general relaxation, improves blood circulation and range of motion, and relieves muscle tension.
---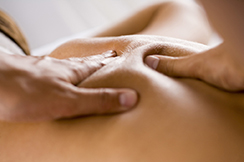 DEEP TISSUE/THERAPY MASSAGE
This therapeutic massage combines the essentials of relaxation massage with focused therapy. By employing a number of different modalities including deep tissue, neuromuscular therapy, trigger point therapy, sports massage, and stretching, etc. the therapist applies deeper pressure to concentrated areas to release chronic patterns of tension in the body. It focuses on deeper layers of muscle tissue as well as tendons and fascia, providing relief from painful, recurring muscle spasms and chronic pain.
---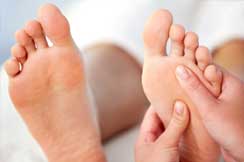 REFLEXOLOGY
Reflexology is an ancient technique applied with alternating pressure points on the feet. It is believed that there are pressure points on the feet and if stimulated can effect the organs and systems of the body. Stimulation of these pressure points naturally enhances the body's ability to heal itself and helps restore balance and well-being.
---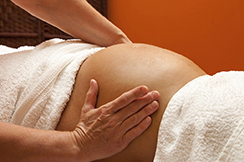 PREGNANCY MASSAGE
Prenatal massage focuses on the special needs of the pregnant woman to minimize the physical and emotional discomforts of pregnancy and childbirth. During pregnancy, a woman's body experiences many changes. Back pain--extremely common in pregnancy--can be relieved by periodic massage to the back, neck, legs, and feet. Other significant benefits include relief from leg cramps and swelling, deep relaxation, increased energy levels and relief of muscle tension in the areas most affected by the developing fetus and the mother's shifting center of gravity.
---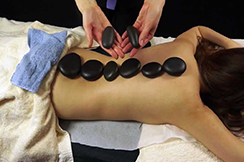 Hot Stone / LASTONE MASSAGE
LaStone massage is based on geo-thermography which involves the alternating application of heated and chilled stones. These stones are placed on key points of the body and are also used to apply a deep, penetrating massage to targeted muscles. Clients report feeling grounded and incredibly relaxed.
---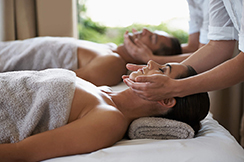 COUPLES MASSAGE
A hugely popular option. Couples massage can be enjoyed by any two people, not just those romantically involved. Mothers and daughters, brothers and sisters, close friends, and even coworkers can, and do, take advantage of this mini-communal experience.
---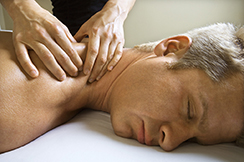 MASSAGE for CANCER PATIENTS:
We offer up to three massages at half off our regular price for patients who are undergoing treatment for cancer. Please check with your doctor before scheduling an appointment.
---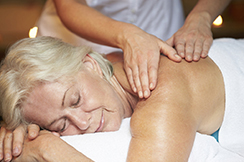 GERIATRIC MASSAGE
Tailored to the specific health conditions and needs of the elderly client. It reduces high blood pressure, lymphedema, and diabetic neuropathy. Geriatric massage also helps stroke patients, and those suffering from circulatory impairment, Parkinson's, MS, Alzheimer's, sleep disorders, emphysema, joint replacement trauma, amputation, arthritis, bursitis, and even tendonitis.
---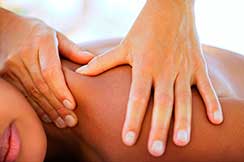 MYOFSACIAL RELEASE
Myofascial release works with the muscles and fascia in order to relieve pain in the body's musculo-skeletal system. Myofascial release employs skillful manipulation to rebalance the body by releasing tension in the fascia. Light to moderate pressure warms and lengthens the muscles, while stretching strokes ease muscular tension.
---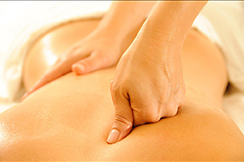 NEUROMUSCULAR MASSAGE
Neuromuscular massage is a form of deep tissue massage applied to individual muscles. It is used to increase blood flow, reduce pain, and release pressure on nerves due to injuries to muscles and other soft tissue. Neuromuscular massage helps release trigger points: intense muscle spasms that can also "refer" pain to other parts of the body. Relieving a trigger point in your back, for example, could help ease shoulder pain or reduce headaches.
---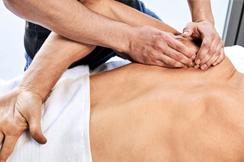 SPORTS MASSAGE
A deep massage characterized by slow, strong strokes focusing on muscle systems specific to a particular sport. Sports Massage is classified into three main categories: maintenance, event, and rehabilitation. Maintenance massage is a regular program of massage to help the athlete reach optimal performance through injury-free training. Event massage takes place before, during, and/or after competition to supplement an athlete's warm-up, to ready the athlete for top performance, and/or to accompany vigorous exercise. Rehabilitation massage is effective in addressing both acute and chronic sports-related injuries.
---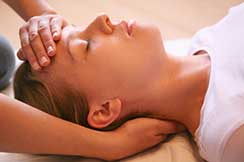 REIKI
Reiki is a Japanese technique for stress reduction that also promotes healing. Administered by "laying on hands," it is based on the principle that an unseen "life force energy" flows through us. Recipients often report feeling immersed in a radiant, soothing "river" of energy.
---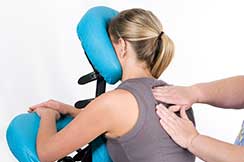 Corporate Chair Massage
Plan a massage around your busy work schedule. Let our dedicated therapists create a calm relaxing oasis in your busy workplace. Chair Massage improves job satisfaction, relieves tension, and relaxes the mind. When your employees feel better, their productivity and work performance improves. Do it for yourself! Do it for your employees!
---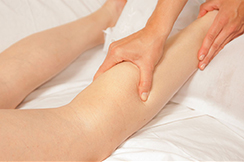 MANUAL LYMPHATIC DRAINAGE
(MLD) uses light touch to move excess lymph and fluid out of the tissues and back into the lymphatic vessels. Although often referred to as a type of massage, MLD is very different from traditional forms of massage that rely on deep and rigorous rubbing. MLD is much gentler and should feel as if the skin is being brushed, not rubbed or kneaded. If you suffering from fibromyalgia or post-surgical swelling, a manual lymph drainage treatment can help.